Koichi Yairi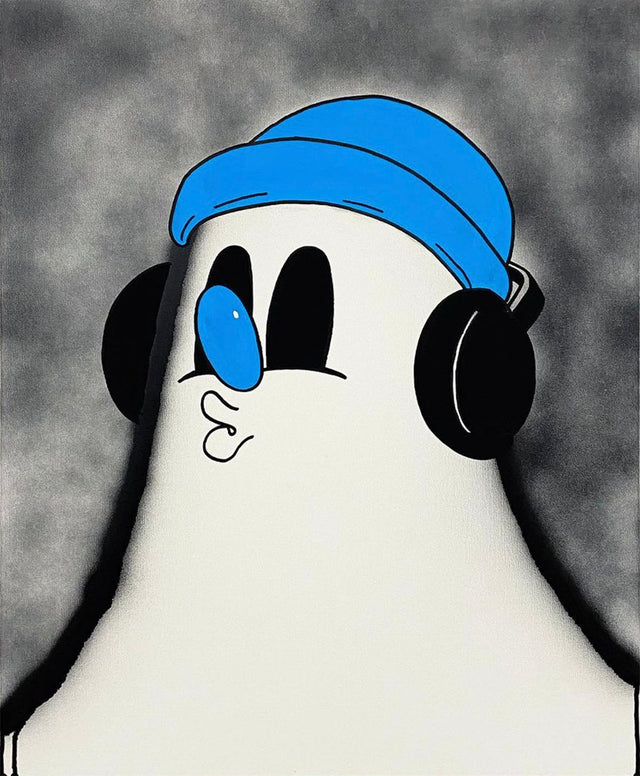 About Exhibition: Three Hunters & The Golden Rock
Each of my solo exhibitions has its own story. All the artworks here are related as if they are from a storybook.

My solo exhibition in Hong Kong is inspired by the 'Five Monkeys and Bananas Experiment*.' It is about the importance of questioning the formality of traditions and seeing the nature of them. For this theme, I created a story called 'Three Hunters & The Golden Rock.'

The whole theme picks up from the Ghosts that traveled to the space from my previous exhibition. Now on their way home, the Ghosts found a picture book in the spaceship. They started reading the book, Three Hunters & The Golden Rock. It is about the chaos caused by a huge golden rock. The true cause of event got twisted and distorted through generations. The story is presented with the Ghosts acting in it. It is a tragedy of conforming the meaningless traditions without questioning.

Please enjoy the exhibition.

* Five Monkeys and Bananas Experiment was conducted with the scientist punishing all the monkeys by spraying water whenever a monkey reaches for the bananas. Later, a new monkey was introduced, the old monkeys would attack it for reaching for the bananas, even though the punishment was lifted.
Born in 1992 and a graduate of Musashino Art University, Koichi Yairi is a Japanese contemporary artist best known for his classic cartoon style. Although growing up in an Asian background, the comical universe he created is influenced by the Western cartoon from the 50s, in a monochromatic half-tone and populated by his signature character, Ghost. The character has been seen on his art, album covers, apparel and other products since then.

Yairi's works are seen in exhibitions in Japan and overseas, including the UK, Korea, and now Hong Kong.
Three Hunters & The Golden Rock 00
Three Hunters & The Golden Rock 01
Three Hunters & The Golden Rock 02
Three Hunters & The Golden Rock 03
Three Hunters & The Golden Rock 04
Three Hunters & The Golden Rock 05
Three Hunters & The Golden Rock 06
Three Hunters & The Golden Rock 07
Three Hunters & The Golden Rock 08
Three Hunters & The Golden Rock 09
Three Hunters & The Golden Rock 10
Three Hunters & The Golden Rock 11
Three Hunters & The Golden Rock 12
Three Hunters & The Golden Rock 13
Three Hunters & The Golden Rock Book 01
Three Hunters & The Golden Rock Book 02
Three Hunters & The Golden Rock Book 03
Three Hunters & The Golden Rock Book 04